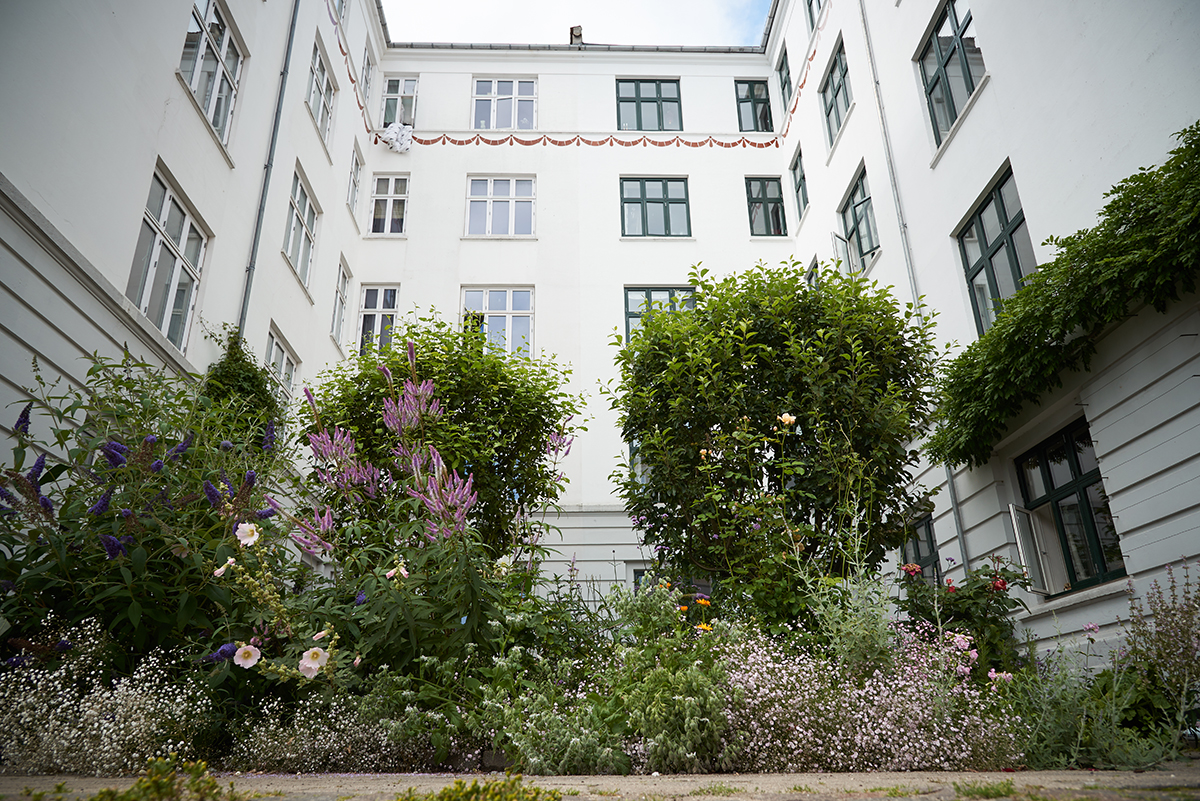 Havefotografering – mange vinkler
Når jeg skal fotografere en have, forsøger jeg at få så mange forskellige vinkler som muligt, fordi de tilsammen er med til at fortælle forskellige dele af historien – og også meget gerne vinkler, som man ikke normalt ser.
Billederne her er fra en lille fælles byhave, der ligger i et indhak mellem nogle typiske ældre københavner-kareer på Østerbro.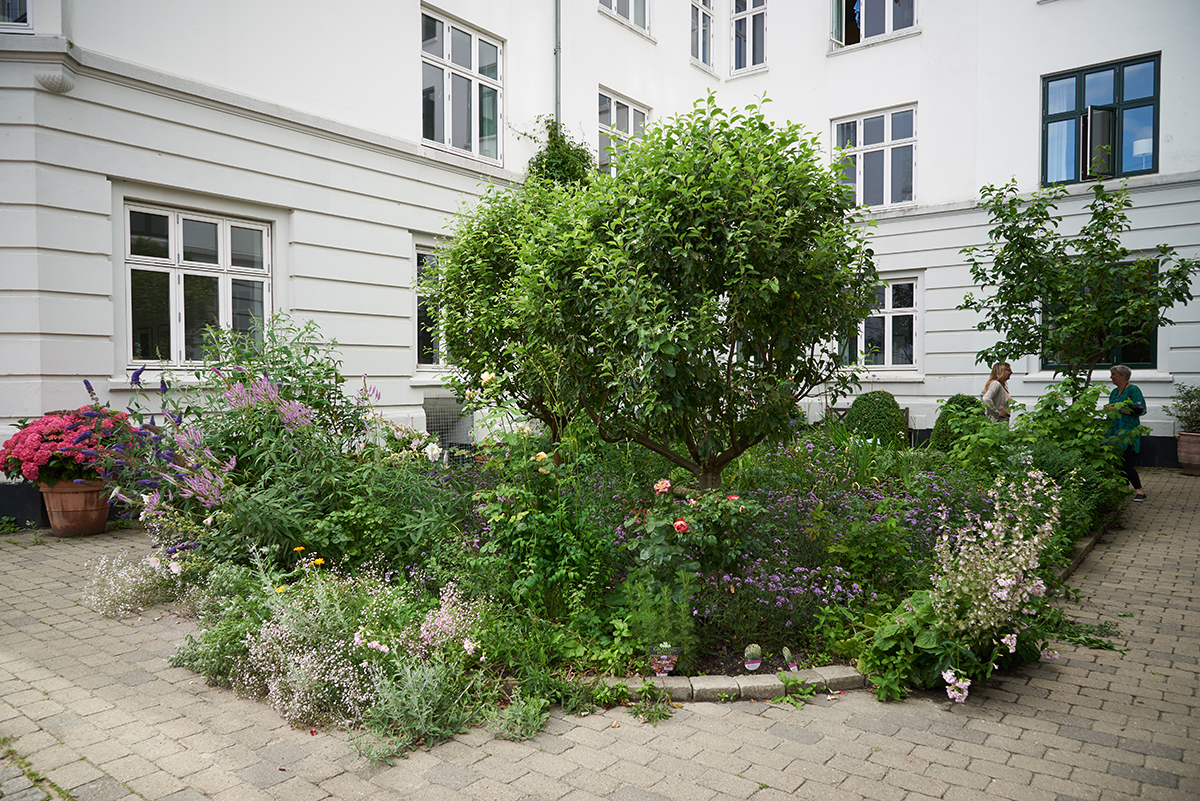 Kamera-indstillinger: blænde: f/6.3, lukketid: 1/50, ISO 100, brændvidde: 24 mm.
Når man kommer gående forbi på fortorvet, vil det typisk være dette syn, der møder en, da kameraet ca. er holdt i normal øjenhøjde. Men det fortæller kun en del af historien om denne lille have.
Hvis man til gengæld vælger at fotografere den fra frøperspektiv, så får man fortalt en anden historie.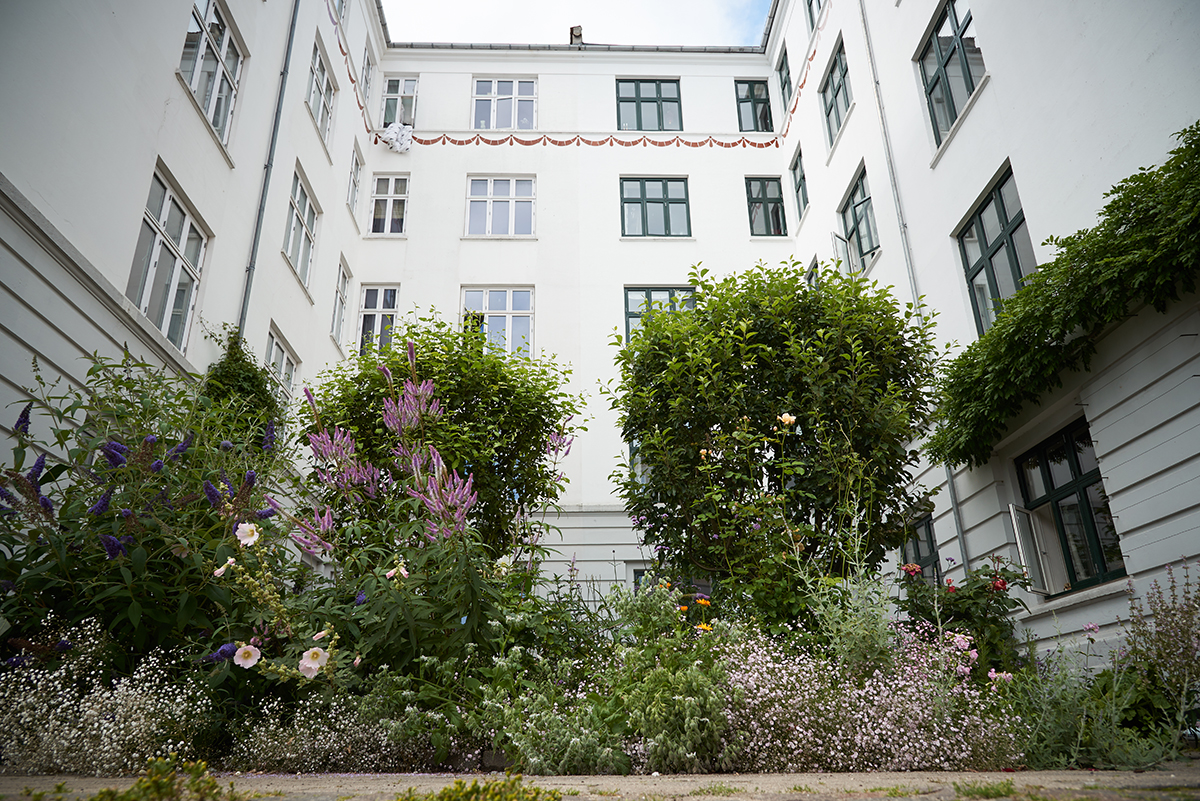 Kamera-indstillinger: blænde: f/6.3, lukketid: 1/200, ISO 100, brændvidde: 24 mm.
Der er stadig den forbipasserendes perspektiv, hvor haven bliver set udefra, fra fortorvet, men nu får man en anden fornemmelse af, hvordan haven relaterer sig til de høje huse, den er omgivet af. Pga. perspektivet (og vidvinkel – brændvidde på 24mm), kommer haven også til at virke forholdsvis større i billedet, mens husene bliver smallere foroven.
Da man som forbipasserende formentlig sjældent vil lægge sig på fortorvet for at betragte haven, er denne vinkel også med til at give et anderledes perspektiv på haven, end man normalt vil se, hvilket også ofte vil gøre billedet mere interessant i sig selv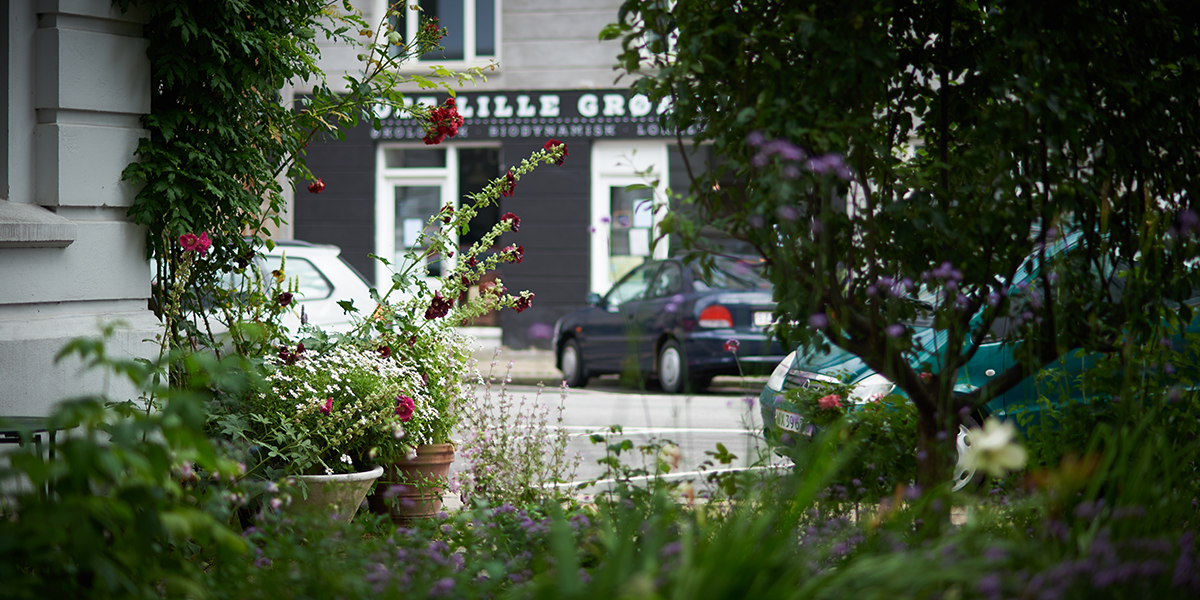 Kamera-indstillinger: blænde: f/1.8, lukketid: 1/1000, ISO 100, brændvidde: 85 mm.
Bevæger man sig ind i haven får man igen et andet perspektiv. Her fornemmer man gaden i baggrunden, men pga. den lille dybdeskarphed (blænde 1.8) er det ikke den, der er i fokus. Min hensigt med billedet var at fortælle, at man har bevæget sig ind i denne lille oase – og selvom man fornemmer byen/gaden, så er man også tilbagetrukket fra den.
Hvis man helt vil glemme byen, kan man vælge kun at fokusere på udvalgte elementer i haven, som man f.eks. kan se her.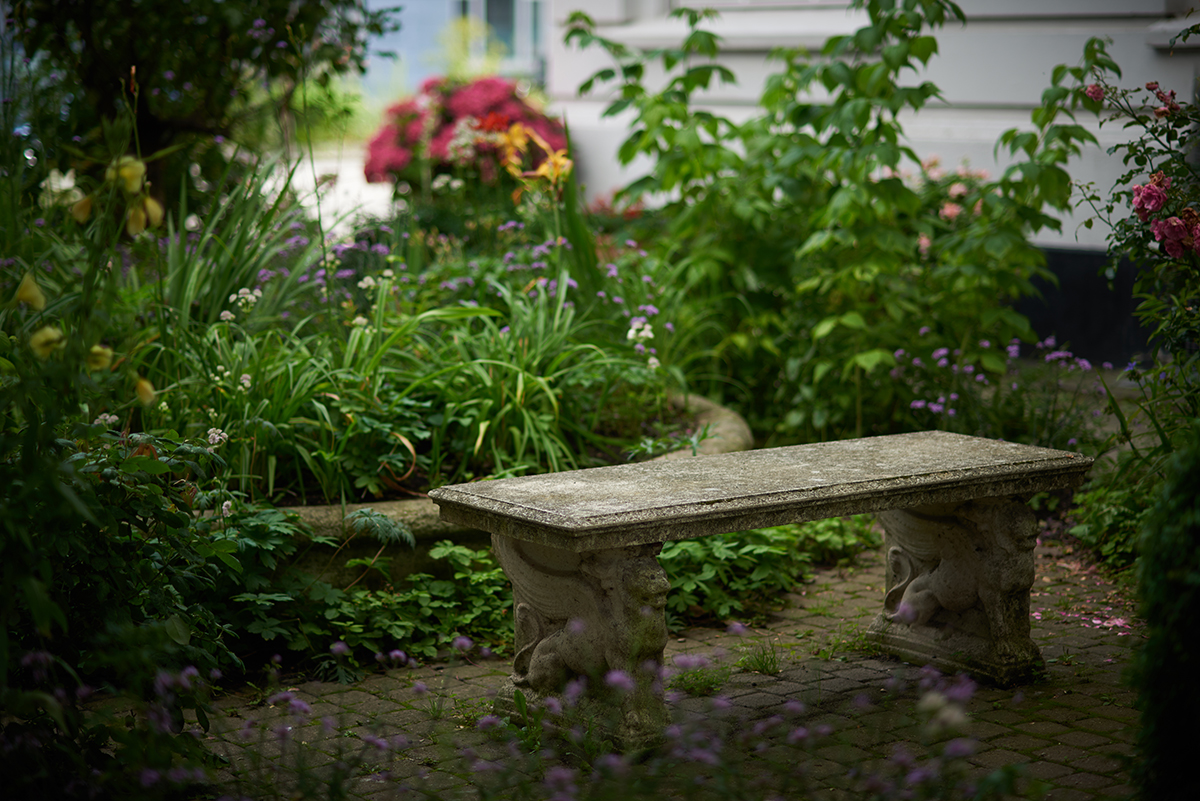 Kamera-indstillinger: blænde: f/1.8, lukketid: 1/500, ISO 100, brændvidde: 85 mm.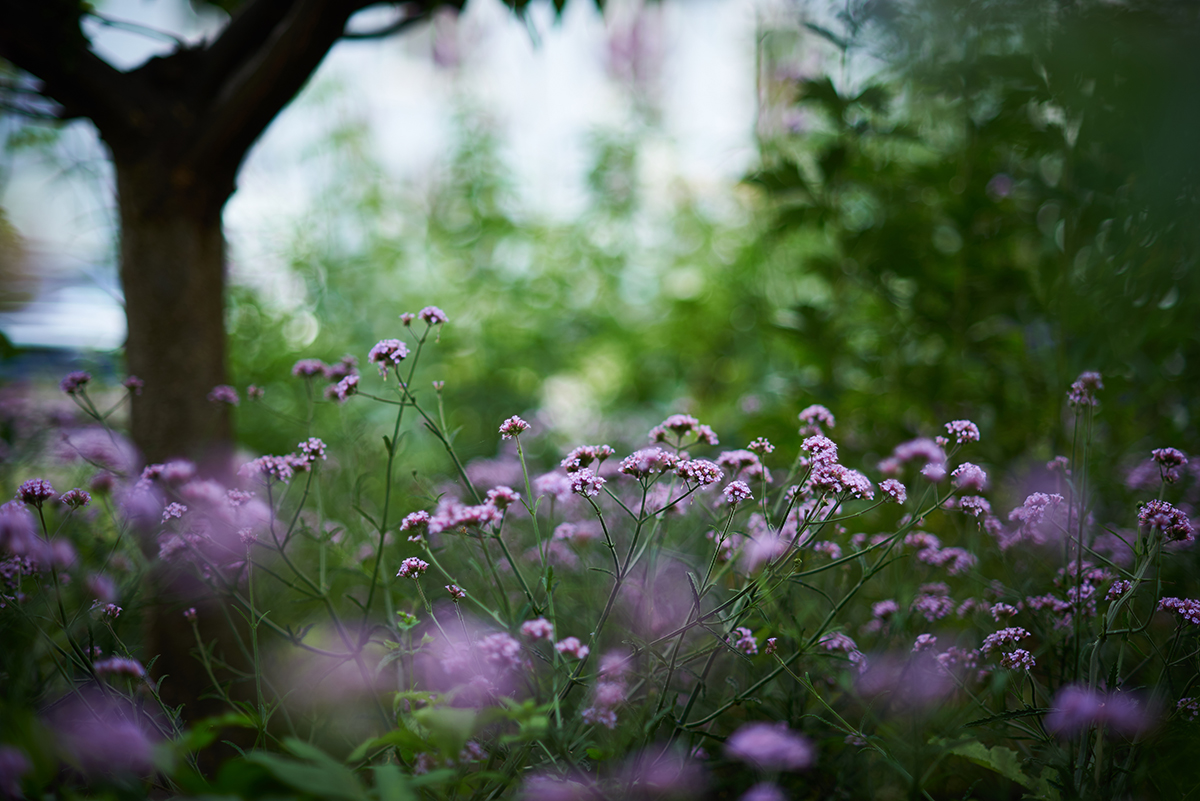 Kamera-indstillinger: blænde: f/1.8, lukketid: 1/400, ISO 100, brændvidde: 85 mm.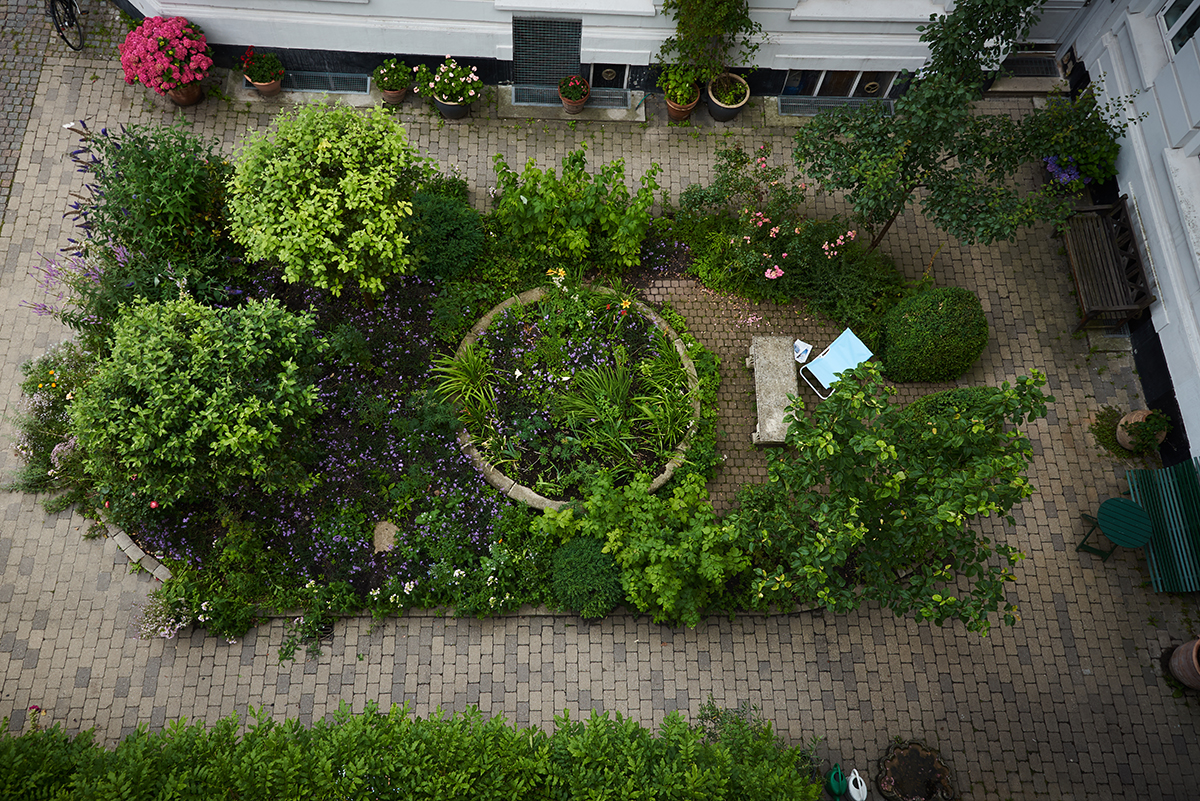 Kamera-indstillinger: blænde: f/9, lukketid: 1/30, ISO 220, brændvidde: 30 mm.
Det er stort set altid interessant at se en have fra andre vinkler, og ser man den oppefra, vil det også typisk give et rigtig godt overblik over de forskellige elementer i haven, og hvordan de er placeret i forhold til hinanden.
Hvis man ikke har en drone, kan det ofte være en svær vinkel, men lige i dette tilfælde kan man som her tage billedet fra en af de øverste lejlighedder. I denne lille byhave er vinklen oppefra desuden en at de vinkler, som beboerne selv meget ofte ser haven fra – selvfølgelig med variationer, da der er forskel på udsigten fra lejlighed til lejlighed.
Selvom man ikke altid kan komme så højt op, så kan man mange gange opnå et bedre overblik ved at finde et højt punkt i haven eller stille sig på noget, og måske endda evt. løfte kameraet op over hovedet og fyre et par skud af i håb om at autofokus får ramt rigtig.
Vinklen er afgørende for fortællingen
Hvis man kun har mulighed for at vise et enkelt billede, så er det afgørende for fortællingen, hvilken vinkel man vælger – om det er udefra eller indefra, om det er følelsen af at kunne gemme sig i en grøn oase, eller om det er for at give overblik over havens forskellige elementer.
Har man mulighed for at bruge flere billeder til at fortælle historien, så vil de mange vinkler til gengæld bidrage til at give flere facetter på den samlede fortælling om haven.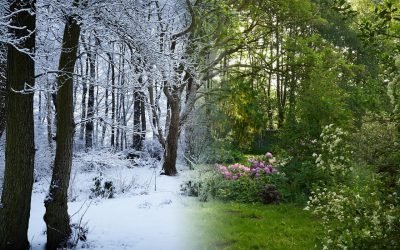 De fleste havefolk synes, det er interessant at se, hvordan en have udvikler sig. Her er et par overvejelser om, hvordan man kan sikre sig gode billeder af udviklingen.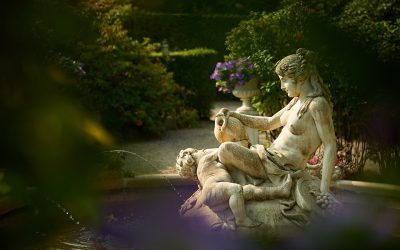 Når jeg fotograferer haver, bruger jeg ofte forgrunden til at indramme mit hovedmotiv. Det kan både være med til at give noget dybde i billedet og samtidig guide øjet.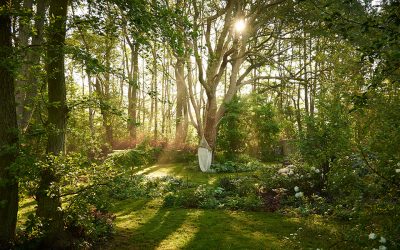 Når man fotograferer haver, er lyset utrolig vigtig for den stemning, man vil fange, og et af mine absolutte yndlingstidspunkter er tidlige morgener.