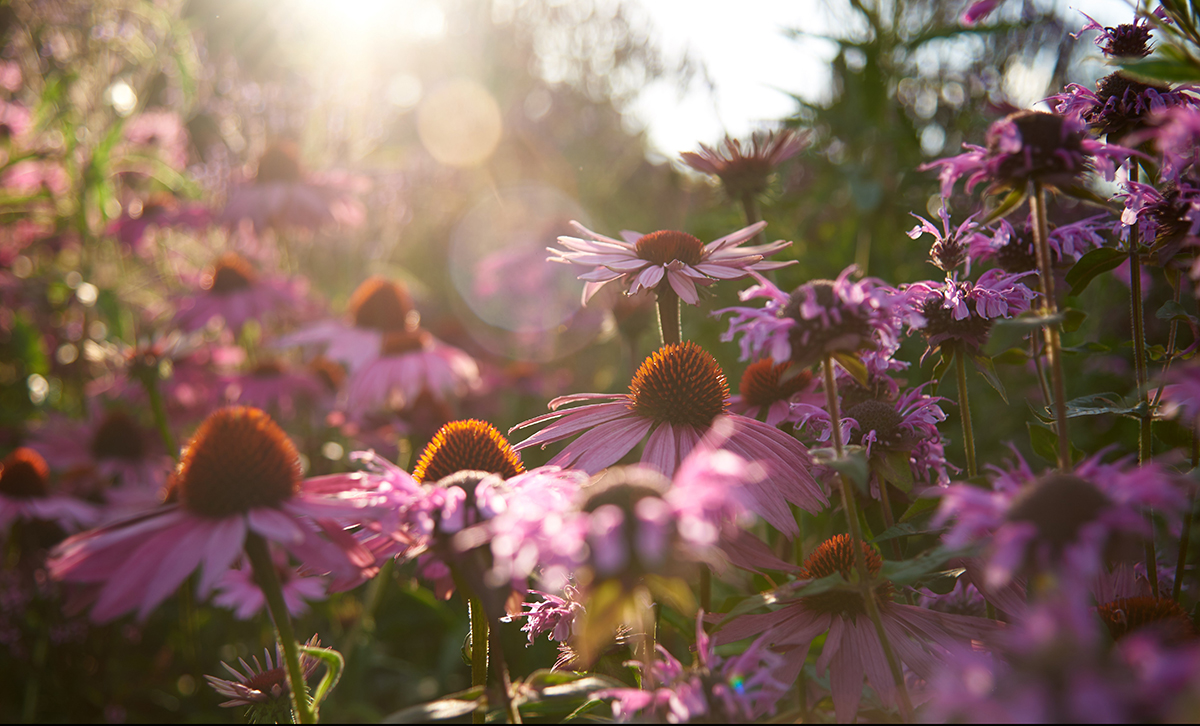 Blomsterfotografering – lyset
Lyset er det vigtigste for mig, når jeg tager billeder. Selvfølgelig er motivet, kompositionen, dybdeskarpheden og alt det andet også vigtigt, men når jeg f.eks. går ud i min have for at tage blomsterbilleder, så er det lyset, jeg går efter, og for det meste er det også lyset, der bestemmer, hvilket motiv jeg vælger. Det vil typisk være den blomst, der står i det lækreste lys, eller hvor lyset falder på en måde, der fremhæver en eller anden smuk detalje, eller giver en helt bestemt stemning.
Næsten altid modlys
Blomster er for det meste transparente i en eller anden grad, og ved at lade lyset skinne igennem dem, kan man bedre indfange den lethed, de har. Typiske vil det også give et andet farvespil. Derfor foretrækker jeg normalt at fotografere blomster i modlys.
Det behøver dog ikke at være direkte modlys – det kan ofte give problemer med flare – men den samme transparente effekt fås også hvis lyset kommer mere fra siden. Så snart lyset begynder at oplyse blomsten forfra, også skråt forfra, forsvinder effekten dog, og som man kan se på det andet billede virker krokusen meget mere massiv her, lidt som var den støbt i plastik.
Flare og modlysblænde
Hvis solen rammer direkte ind i objektivet vil det ofte give problemer med flare –  lysende cirkler eller pletter og manglende kontrast.
Derfor bruger jeg også stort set altid modlysblænde, som netop skygger for objektivet. Hvis man har et mindre kamera, der ikke har modlysblænde, så kan man f.eks. holde en flad hånd op ved siden af eller over kameret for at skygge for solen, så den ikke rammer ind på linsen – lidt som når man holder en hånd op for at skygge, så man ikke får sol i øjnen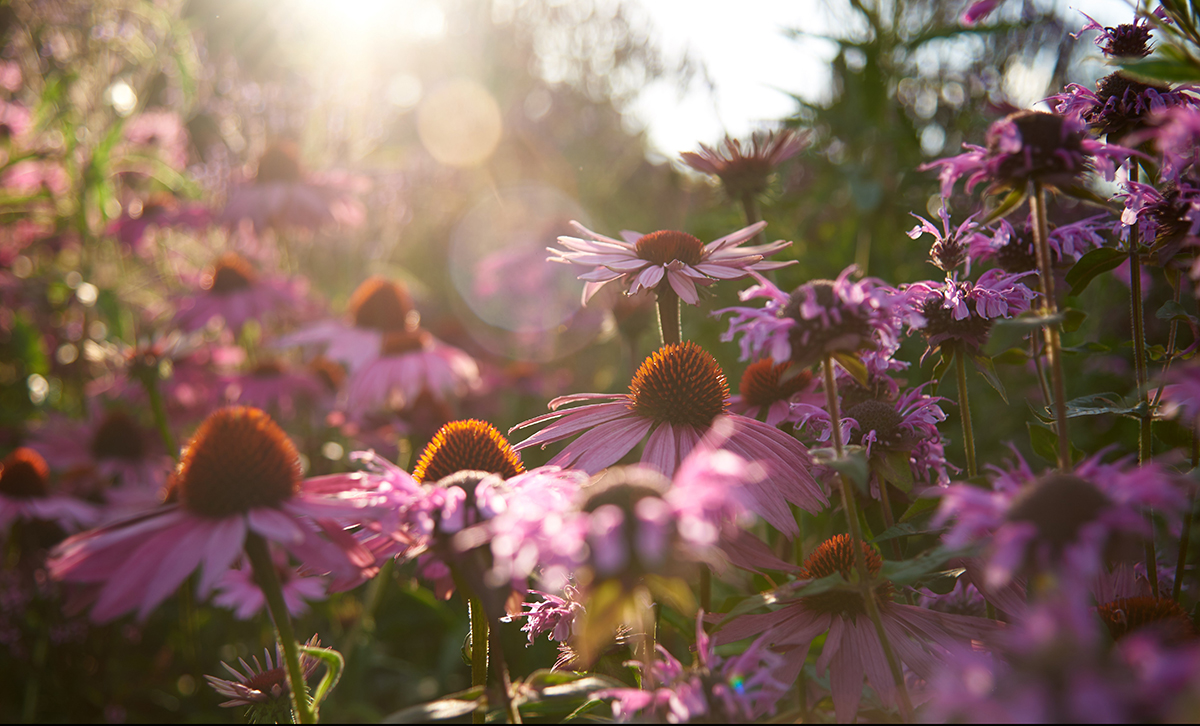 Flare fra direkte modlys kan dog også bruges som effekt, som f.eks. her, hvor de lysende cirkler er en del af stemningen på billedet.
Hårdt eller blødt lys
Noget af det, der er mest afgørende for kvaliteten af lyset er, hvor stor lyskilden er i forhold til motivet. Selv om solen jo er ret stor, så er den dog kun en lille lysende plet på himlen. Når alt lyset kommer fra det samme forholdsvis lille punkt, blivet lyset meget hårdt, og skyggerne vil blive tegnet meget skarpt. Når det er let overskyet, kommer lyset til gengæld fra hele den overskyede himmel. Da lyset nu kommer fra en forholdsvis stor lyskilde (hele himlen), vil lyset blive meget blødt og skyggerne vil blive meget mere diffuse.
Det hårde sollys giver også store kontraster – det oplyste bliver meget lyst og skyggerne bliver omvendt meget mørke. For bedre at kunne styre lyset som fotograf, kan det der for være en god idé at anskaffe en diffuser (der kan sprede sollyset, så det komme fra en større flade) og en reflektor (der kan kaste noget af lyset tilbage og gøre skyggerne mindre mørke) – jeg har skrevet lidt mere om diffuser og reflektor sidst i indlægget.
Eksempler på krukus i forskelligt lys
Her kan man se de samme krokus taget fra ca. samme vinkel og afstand, med samme objektiv og blænde/dybdeskarphed: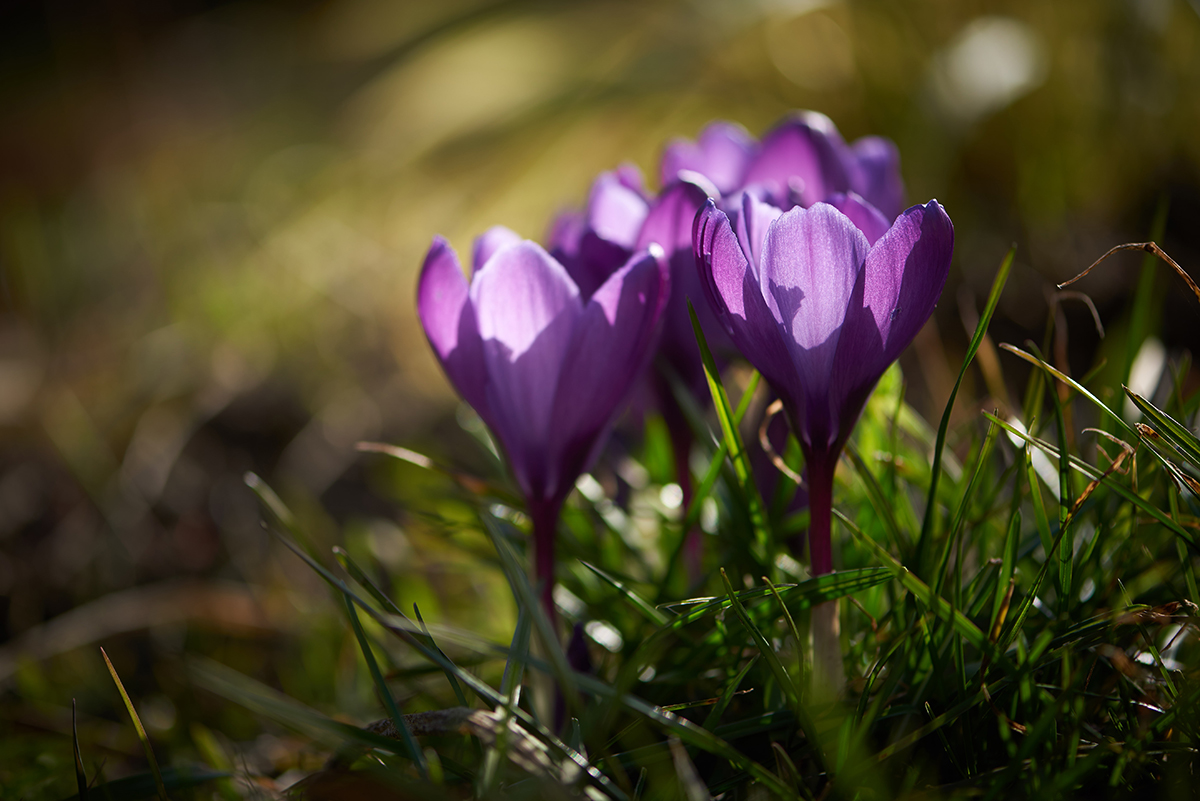 Modlys
Her ses de direkte i solen – skyggerne bliver meget hårde og mørke, og skyggen fra støvdragerne står tegnet helt skarpt.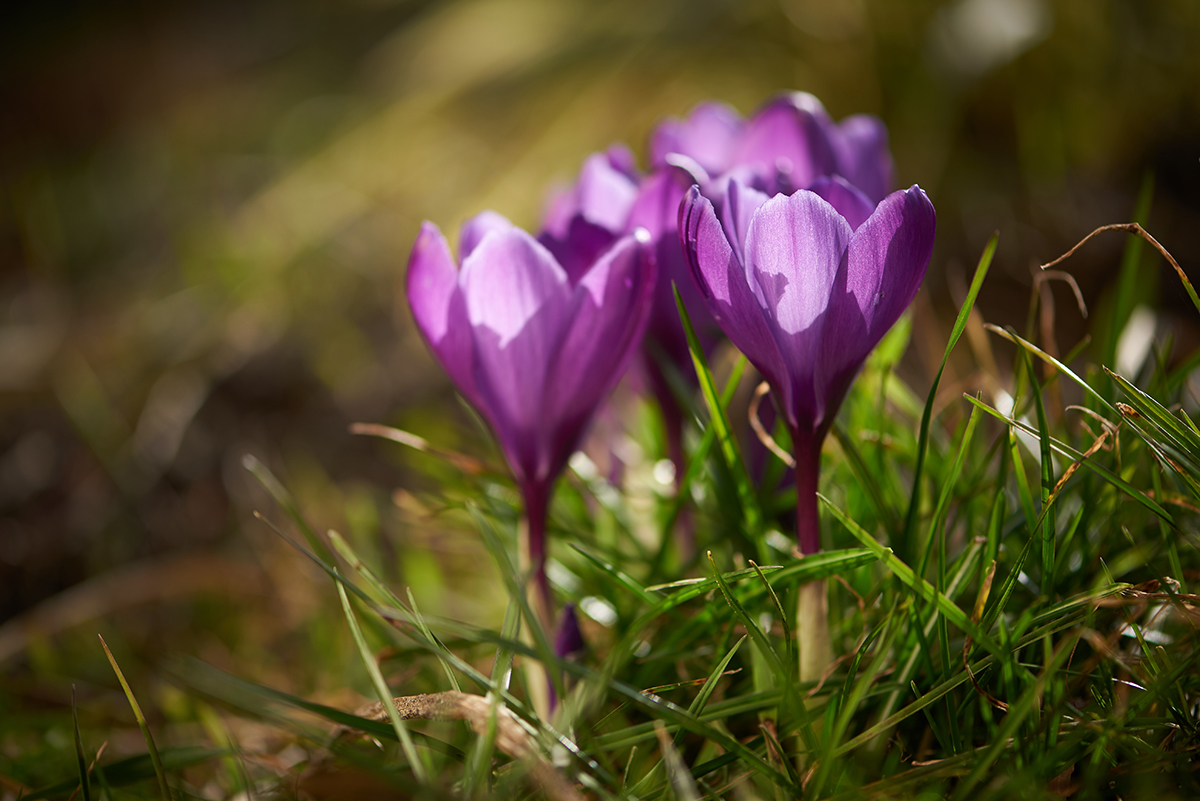 Modlys med reflektor
Her har jeg brugt en reflektor til at kaste lidt lys tilbage ind i skyggerne fra højre side – skyggerne er stadig hårde (støvdragernes skygge tegnes tydeligt), men skyggerne er nu ikke helt så mørke, der hvor lyset fra reflektoren rammer. Den samme effekt kan også fås ved at bruge en blitz til at bløde skyggerne op.
Modlys med diffuser
Her har jeg holdt en diffuser over dem, så de ikke længere blive ramt af hårdt direkte sollys (der er ikke længere nogen hårde skygger – den hårde aftegning af støvdragerne er væk), men der kommer stadig lys gennem kronbladene (man kan bl.a. se, at de er mørkere der, hvor kronbladene overlapper hinanden).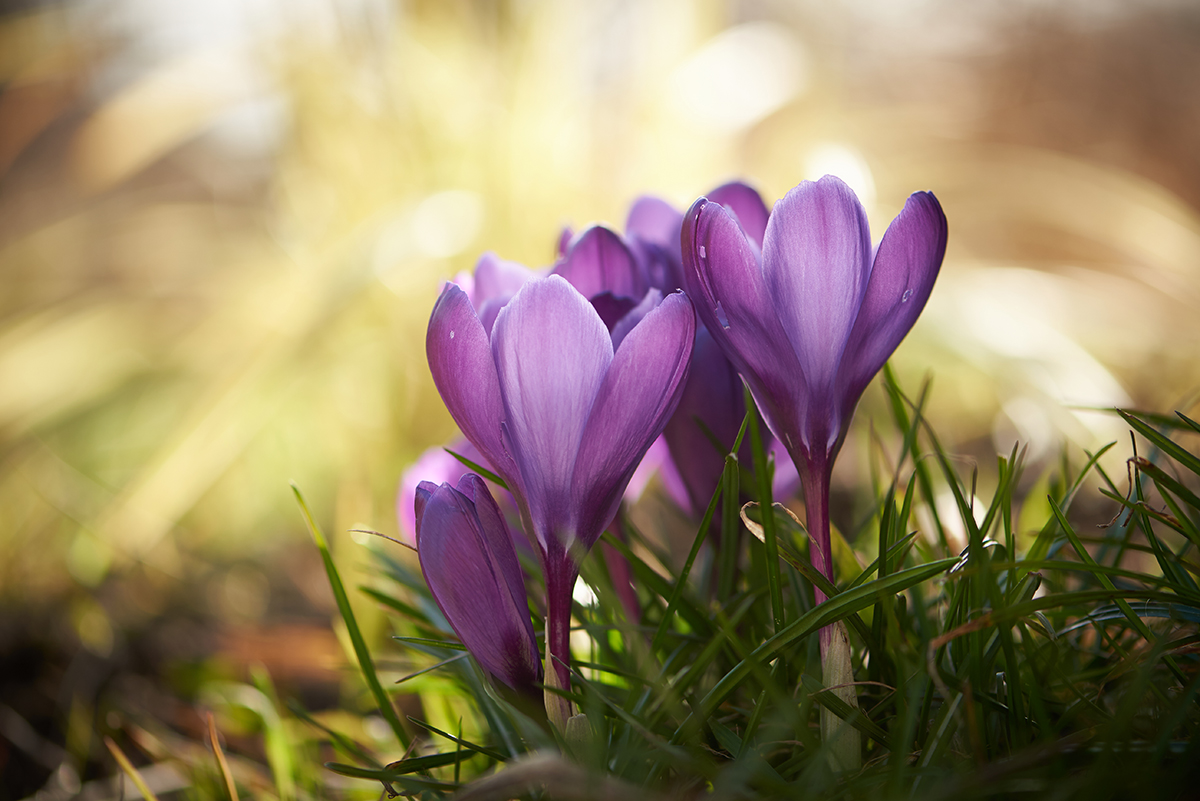 Modlys med skygge på motivet
Her skygger jeg helt for blomsterne, og her vil det transparente stort set forsvinde. Baggrunden er dog stadig oplyst af modlys.
Baggrunden bliver lysere når motivet bliver mørkere – og omvendt
På det sidste billede af krokusserne er det værd at bemærke, at når blomsterne bliver mørkere, fordi de nu står i skygge, så vil baggrunden, hvor der stadig er sol på, komme til at fremstå lysere end på de andre billeder (selvom der i princippet er lige meget sol på baggrunden på alle billederne).
Kamerat indretter nemlig sin lysmåling efter blomsterne, som jeg har fokuseret på, og for at de ikke skal blive mørkere, end på de andre billeder, gør kameraet hele billedet lysere. Hvis man ønsker en lys og luftig baggrund, er det derfor et godt trick, at man sørger for, at der er mindre lys på det man fokuserer på, end der er på baggrunden.
Ønsker man en mørk baggrund, skal man omvendt sørge for, at der er meget mere lys på selve motivet end på baggrunden, for så vil selv en forholdsvis lys baggrund komme til at fremstå mørk.
På billedet her er det hvide i vintergækkerne så lyst, at baggrunden bliver meget mørk. Hvis kameraet havde målt efter lyset på baggrunden, ville de hvide vintergækker i stedet blive så overbelyste, at man ikke ville kunne se detaljer i det hvide.
Hvide blomster kan være udfordrende i fuld sol
Det er ofte et problem med hvide blomster, at de bliver overbelyste, hvis man vil fotografere dem i solskinsvejr. Her vil en diffuser eller skygge over selve blomsten ofte være en fordel.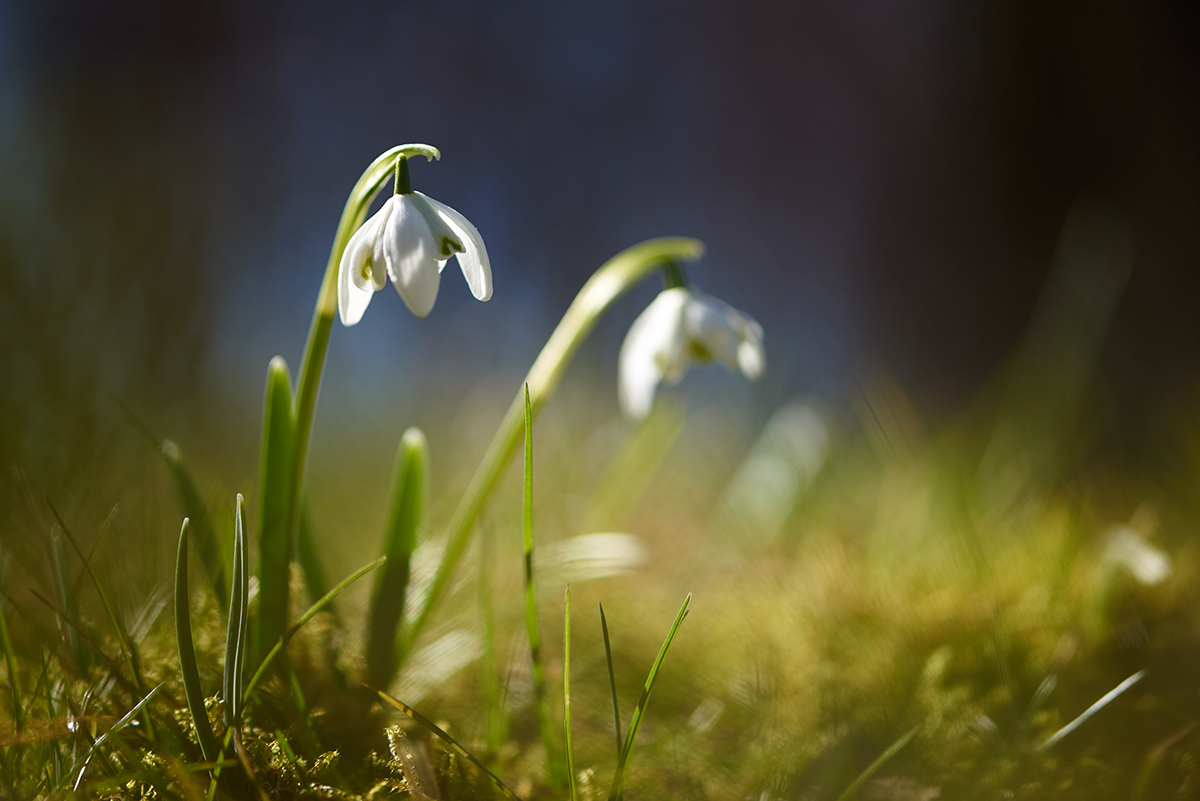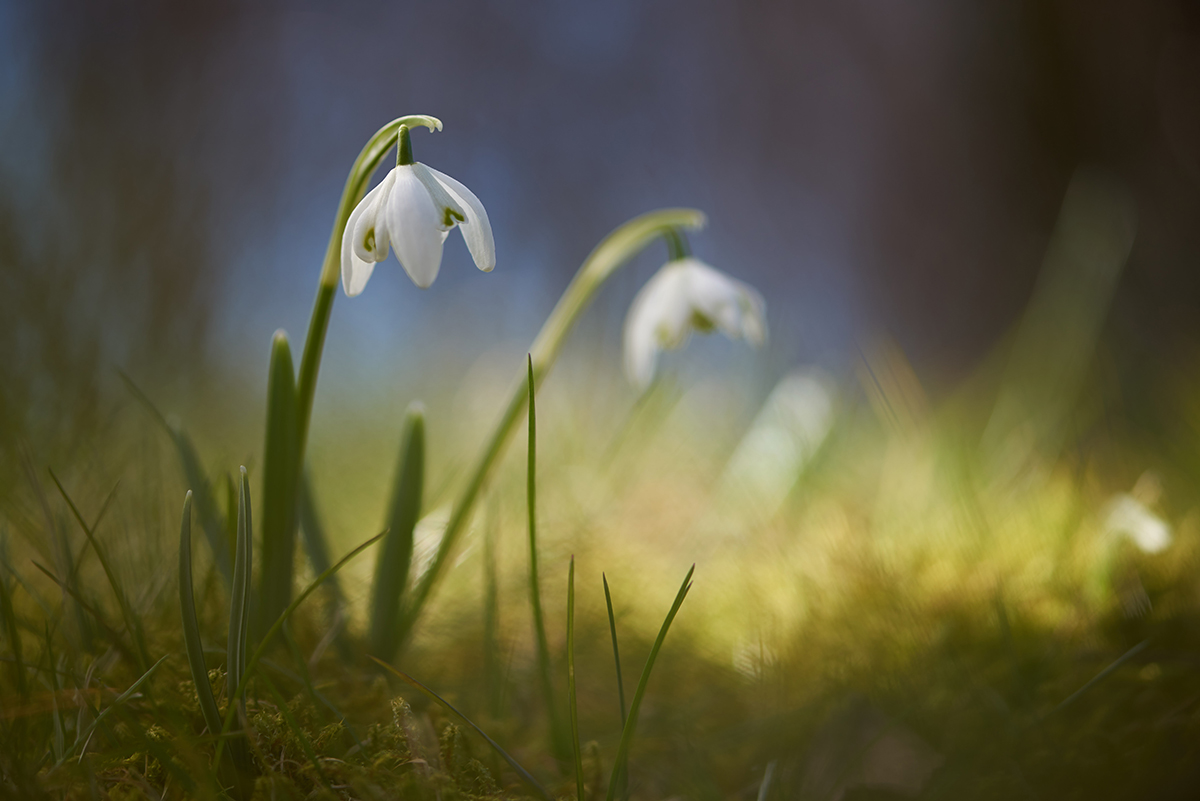 Her kan man se forskellen på om vintergækken er i fuld sol, eller man holder en diffuser op, som sollyset skinner igennem. På det andet billede kan man sagtens fornemme det transparente i blomsten, da der fortsat kommer lys gennem diffuseren, men de lyseste dele af det hvide i blomsten er mere afdæmpede og har flere detaljer. Til gengæld går det lidt ud over farve- og lysspillet i græsset/mosset omkring vintergækken – you can't win them all.
Jeg foretrække solskin
Mange er nervøse for at fotografere i solskin, fordi det netop kan give meget hårde skygger på motivet, og man måske ikke lige har lyst til at slæbe rundt på en diffuser eller reflektor, der kan bløde skyggerne lidt op. Selv elsker jeg at tage billeder i solskin, fordi lyset typisk giver meget mere liv i billedet.
Det aller hårdeste solskin midt på dagen er dog ikke min livret, og jeg foretrækker den lave og ikke så skarpe sol i dagens første og sidste timer. Men jeg vil normalt hellere have en hård middagssol end overskyet, når jeg fotograferer blomster. Selvom jeg måske er nødt til at vælge motiver i hel eller delvis skygge, for at undgå for hårde skygger, så kan jeg stadig bruge solen til at skabe liv og lys i baggrunden.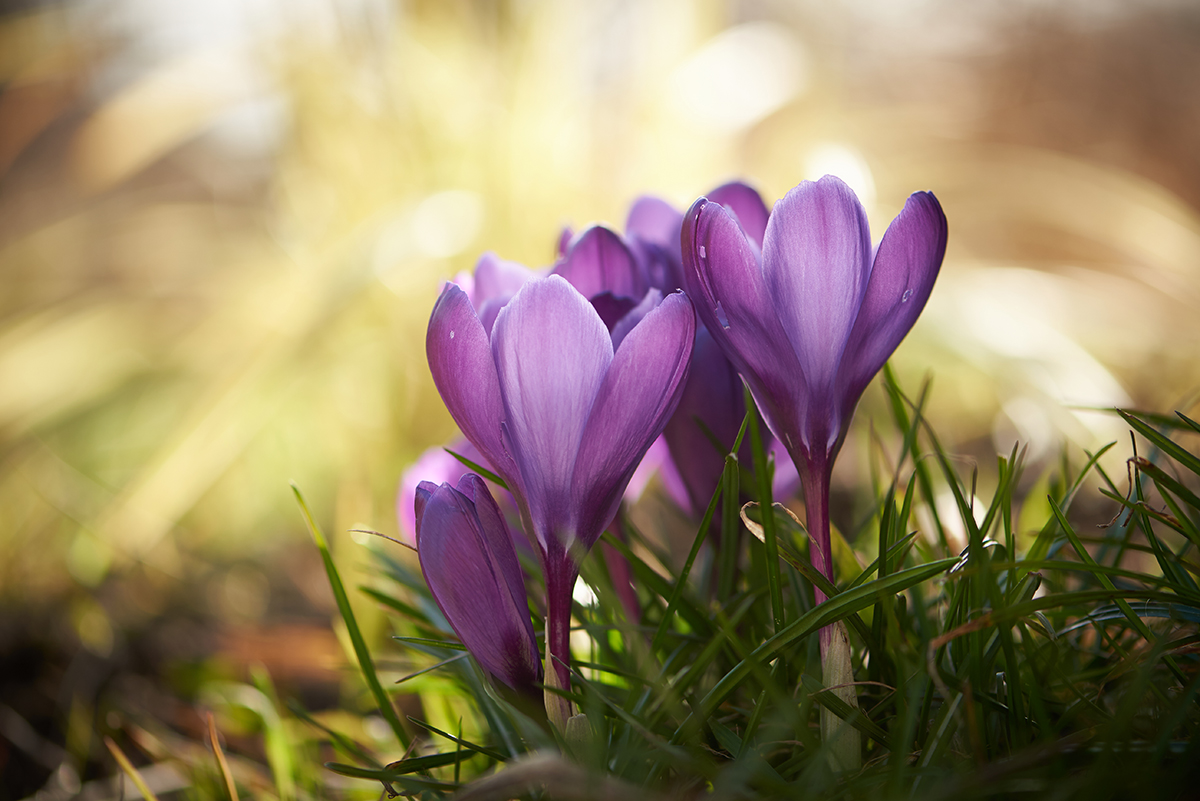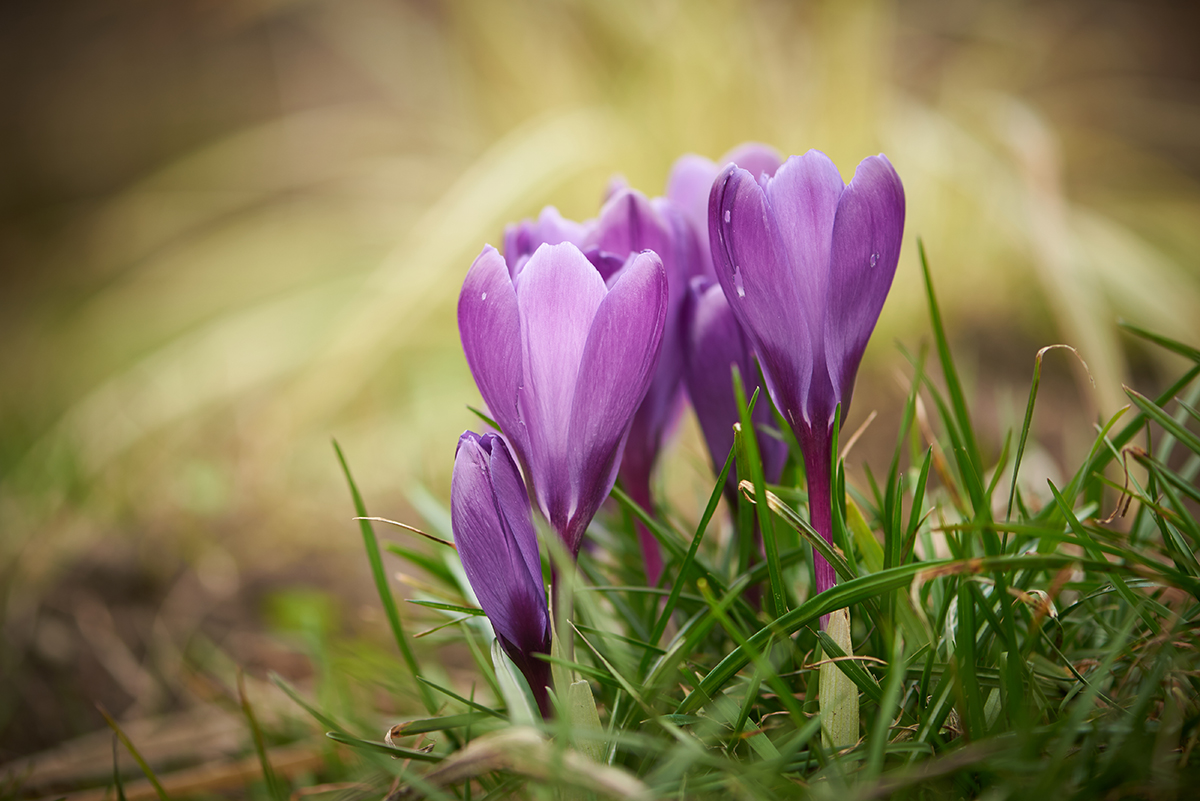 Det første billede her er det samme, som jeg viste tidligere, hvor jeg skygger helt for blomsterne, men der fortsat er sol på baggrunden. Det anden billede er til gengæld taget på et tidspunkt, hvor der var kommet skyer, og der derfor hverken var direkte sol på blomsterne eller baggrunden. Som man kan se, virker baggrunden mørkere på det andet billedet (hvilket den jo også er i virkeligheden), og den har ikke helt så meget liv og dybde. I dette tilfælde har den manglende sol så også den effekt, at blomsterne begynder at lukke sig, hvilket jo også har en væsentlig betydning for billedet.
Masser af lys giver skarpere billeder
En anden grund til, at jeg foretrækker solskin er, at kameraet kan bruge en hurtig lukketid og en lav iso. Hvis lukketiden bliver for langsom bliver billedet rystet, og hvis iso'en bliver for høj, kommer der støj på billedet. På en gråvejrsdag kan det derfor være sværere at få ordentlige billeder, hvis ikke man har et godt kamera – specielt hvis det blæser lidt, og man derfor har brug for en hurtigere lukketid for at kunne nå at fastfryse blomsterne i farten, så billedet ikke bliver uskarpt. I solskin vil man normalt ikke løbe ind i den slags problemer, fordi der er rigeligt med lys til, at de billige kameraet også kan følge med.
Kort om reflektor og diffuser
Jeg har selv forskellige reflektorer og diffusere, som jeg bruger, og de kan fås ret billigt, men hvis man ikke lige har dem ved hånden, så er et stykke af en hvid flamingo plade også fremragende til at reflektere lyset (de fleste hvide overflader kan faktisk bruges), og et tyndt stykke hvidt stof eller plastic kan sagtens bruges som diffuser, så længe det stadig lader en del af lyset trænge igennem – det kunne f.eks. også være en tynd hvid paraply, som man holder hen over blomsten.