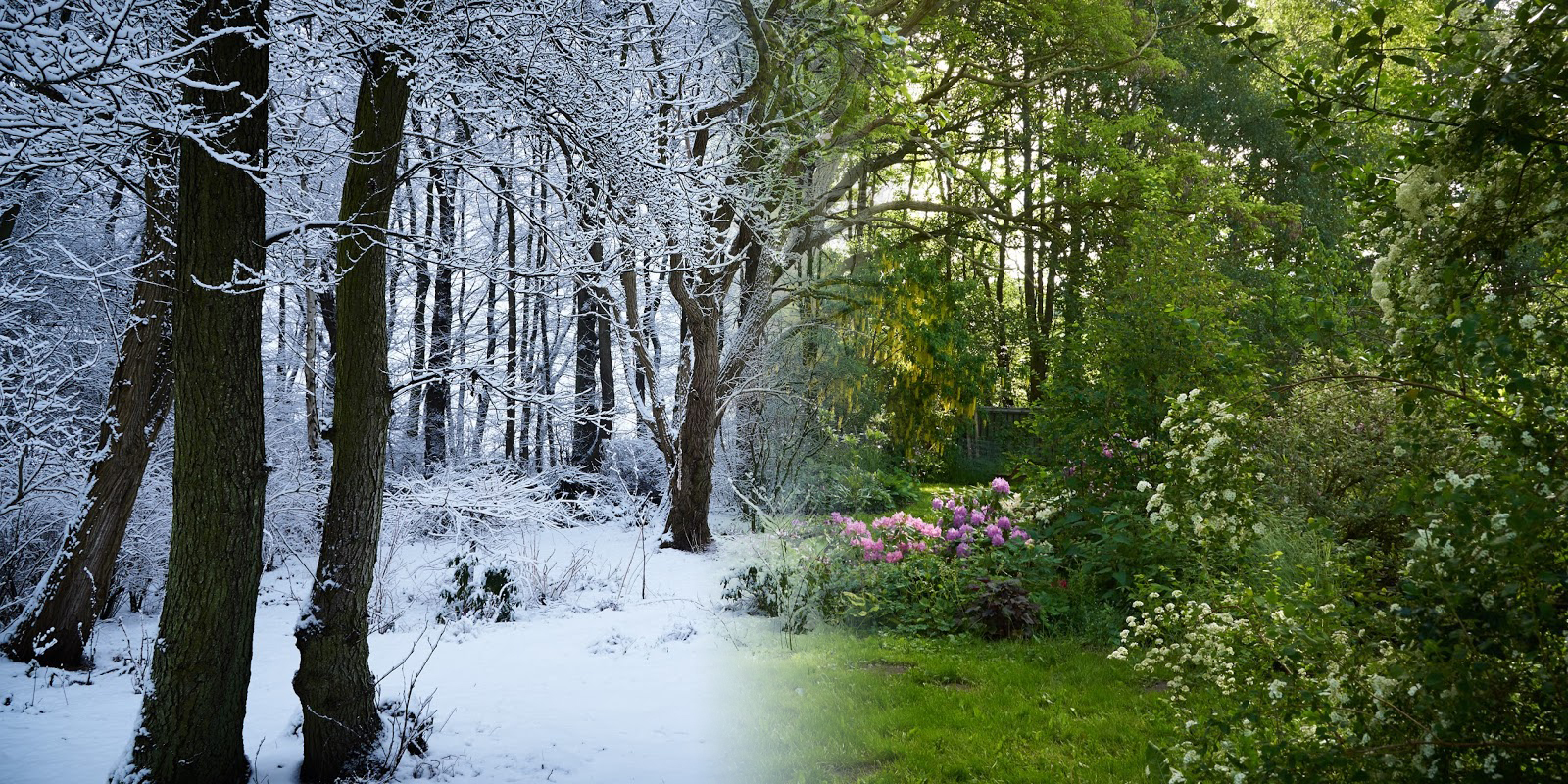 Havefotografi – vis udviklingen
De fleste havefolk synes, det er interessant at se, hvordan en have udvikler sig. Det kan f.eks. være udviklingen hen over året, eller udviklingen fra man starter med at omlægge en del af haven, til man har det færdige resultat.
Samme sted, vinkel og holdepunkter
Effekten bliver størst, hvis man kan tage billederne fra stort set samme sted og vinkel, og at man samtidig sikrer sig, at der er nogle faste og gennemgående elementer (træer, hække, bygninger ol.), der går igen – og at de også er placeret nogenlunde samme sted på billederne. Når man har de faste holdepunkter, vil alt det, der har forandret sig, stå endnu tydeligere frem, når man ser billederne sammen.
Eksemplet her er fra min egen baghave, hvor man kan se forskellen på, hvordan den ser ud en tåget og råkold januardag, en snervejrsdag i marts og en lun sommerdag i starten af juni. Som man kan se, er kameravinklen ikke fuldstændig identisk, men det, at man kan se, at der er nogle af de samme gennemgående elementer (de samme træstammer i venstre side, det samme træ i midten, samme form på bedene/græsseplænen) gør, at man alligevel hurtigt kan genkende dem og orientere sig i billederne.
Hvis det var lykkedes mig at fange præcis samme vinkel, ville effekten selvfølgelig have været endnu større, men det er ikke altafgørende for, at det kan fungere.
Tænkt over begge billeder fra starten
Hvis man ved, at man kommer tilbage til den samme have på en anden årstid, eller når et nyt projekt står færdigt, så kan det være en rigtig god ide på forhånd at overveje, hvilke billeder og vinkler, der kunne være interessante både på det ene og det andet tidspunkt.
Hvis man f.eks. vil vise, hvordan et bed udvikler sig over året, så skal man sørge for, at vinklen og udsnittet ikke bare fungerer, når man tager det første billede af små vintergækker og erantis, men at det også kan fungere, når der senere står 1 meter høje blomstrende stauder, så man f.eks. ikke får valgt et udsnit, hvor man kapper hovedet af stauderne, eller en vinkel, hvor der i mellemtiden er vokset andre planter frem i forgrunden, som blokerer for motivet.
Eksempler på forskellige udsnit
De to billeder her viser det præriebed, jeg er igang med at anlægge i min have. Her har jeg valgt et udsnit, der viser, at de småtræer/buske, der stod her er blevet fjernet, og derfor har de også fået plads på billederne.
Fra denne vinkel fungerer både drivhuset og kanten af det hvide rækværk på min veranda nederst til venstre i billedet som fast holdepunkt.
Det kan nogle gange være svært præcist at forudse, hvad man kan få brug for at udsnit og vinkler senere, så et godt råd er, at tage lidt forskellige billeder for at være dækket ind. Hvis billederne primært skal bruges på nettet, kan de desuden tåle at blive beskåret en del, så tag evt. et par billeder med et større udsnit end det, du regner med at skulle bruge, så du er på den sikre side. Så er der også plads til, at du kan komme tilbage et par år senere, hvor træer og buske måske er vokset så meget, eller et nyt drivhus eller en pergola er kommet til, at pladsen nu faktsik bliver fyldt ud.
Det er ikke alt, man kan forudse, men man kan som sagt komme rigtig langt, hvis man sørger for at gøre sig nogle tanker på forhånd. Og det bliver både sjovere for en selv og andre, at genopleve udviklingen gennem billederne, hvis de nogenlunde matcher hinanden.