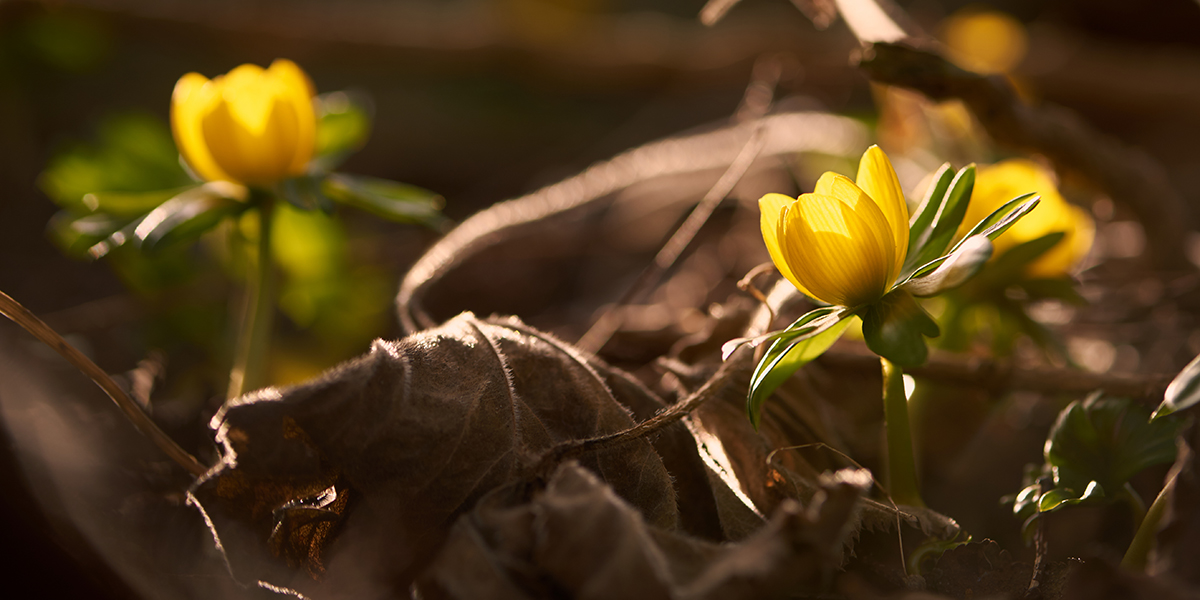 Blomsterfotografering – i øjenhøjde
Hvert forår strømmer facebook over med billeder af erantis, vintergækker og krokus, når folk begejstret opdager de første små tegn på forår. Billederne er fine til at dokumentere, at man har set en blomst, men som blomsterbilleder er de ofte ret kedelige – typisk er de tage ovenfra og ned på blomsten, og selvom blomsten er "stjernen" på billedet, så fylder den mange gange kun en lille brøkdel af billedet.
En af de simpleste måde at gøre sine blomsterbilleder mere interessante på, er ved at tage dem i øjenhøjde med blomsten og gå tættere på, så blomsten også størrelsesmæssigt får lov til at spille en hovedrolle.
Fordele ved at gå ned i øjenhøjde: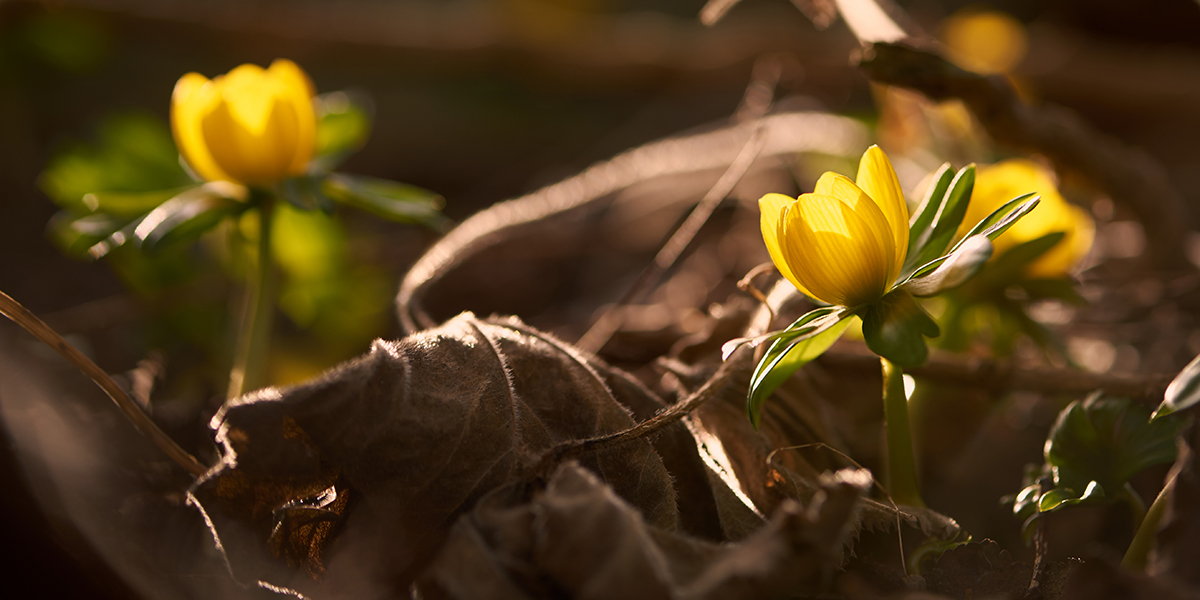 Gennemskin
Man kan nu se lyset skinne igennem blomsten, hvilket både giver et mere interessant lys- og farvespil og samtidig kan man fange kronbladenes transparens og lethed, ved netop at vise, at lyset kan skinne igennem dem (det har jeg skrevet meget mere om i dette indlæg: Leg med lyset).
Nye vinkler
Man ser verden og blomsten på en ny måde. Hvis man ønsker at se f.eks. en erantis rigtig tæt på, så vil man typisk plukke den og tage den op, så man rigtig kan se den. Men ved at lade kamerate gå ned i erantishøjde, så får man samme mulighed for virkelig at se blomsten tæt på, og samtidig bevare den i sit rette miljø. Dermed kommer man også til at opleve blomsten på en helt anden måde. Kameraet giver os mulighed for at se blomsterne fra nye vinkler, som vi måske ellers aldrig ville opleve. Samtidig tilfører det ofte billedet et strejf af eventyr – man kan næsten forestille sig, at man ser verden gennem øjnene på en lillebitte alf, der danser rundt bland de "store" blomster.
For- og baggrund
Man kan skabe mere interessante for- og baggrunde. Hvis man tager billedet ovenfra, vil baggrunden bare bestå af den jord, som blomsten vokser i, og man kan ikke se længere end jorden, der måske kun ligger få cm under blomstern. Hvis man går i øjenhøjde, og lader kameraet skue ud mod horisonten frem for ned i jorden, kan man til gengæld få en forgrund og baggrund, der er meget mere interessant. Man kan f.eks. få andre blomster med, der står i nærheden eller vise mere af de omgivelser, som blomsten står i.
Dybde
Man har mulighed for også at bruge dybdeskarpheden til at skabe perspektiv. Når man kommer tæt på blomsten vil for- og baggrund automatisk blive mere og mere uskarpe, jo længere væk, de er fra blomsten, og det vil give os en fornemmelse af, at blomsten befinder sig i en tredimensionel verden (se evt. også dette indlæg: Leg med dybdeskarpheden).
Kom langt nok ned
Mange gange kan man nøjes med at sætte sig på hug for at komme i øjenhøjde med en blomst, når man ser i søgeren på kameraet, men nogle gange er blomsterne så tæt på jorden, at man ikke engang kan komme helt ned i øjenhøjde, selvom man lægger sig fladt ned på jorden. Det er heller ikke sikkert, der er plads i blomsterbedet, til at man kan lægger sig ned, og ofte vil det også være en kold, fugtig eller beskidt oplevelse. Hvis man vil have den slags billeder, kan man derfor være nødt til at tage kameraet væk fra øjet, og lade det arbejde uden et guidende blik i søgeren.
På billederne af svampene her kan man se, hvor stor forskel det gør, om man lige kommer de sidste cm ned, så man både får mere baggrund med og så lyset kan skinne igennem det tyndeste af padehatten.
Kamera med vippeskærm
Da jeg skulle have nyt kamera, valgte jeg at gå efter en model, der havde en skærm, der kunne vippes. På den måde kan jeg sidde og se ned på skærmen, mens jeg holder kameraet næsten helt nede ved jorden, og samtidig se præcis, hvad der kommer med på billedet og om min autofokus rammer motivet. Nogle gange kan det være vanskeligt at se på skærmen, om motivet er helt skarpt de rigtige steder (specielt hvis jeg arbejder med meget lille dybdeskarphed), så typisk tager jeg lidt flere billeder, for at sikre mig, at der er nogen imellem, hvor skarpheden sidder det helt rigtige sted – og i vores digitale tidsalder betyder det jo ikke så meget, at man skal tage et par billeder ekstra, som man jo bare kan slette igen.
Autofokus kan ofte klare opgaven
Selvom man ikke har en vippeskærm, så er det dog ikke umuligt at få kameraet helt ned i græshøjde. Man kan selvfølgelig ikke se præcis, hvad man får med på billedet eller hvor det fokuserer – i hvert fald ikke før, man tager kameraet op igen og ser billederne igennem. Hvis man ikke fik alt det med på billedet, man ønskede, så kan man sænke kameraet igen og forsøge sig med en lidt anderledes vinkel eller afstand. Når man så har en fornemmelse af, at kameraet er det rigtige sted, så er kunsten at få ens autofokus til at ramme det rigtige. Selv har jeg mange gange brugt den metode, at jeg trykkede på autofokus og tog et billeder, hvorefter jeg rykkede kameraet få mm fokuserede igen og tog et nyt billede. Hvis man gentager det nogle gange, er der en god chance for, at man har ramt rigtig på nogle af billederne. Det lyder måske lidt besværligt, men det går faktisk ret hurtigt, når man lige har vænnet sig til det, og det gør en kæmpe forskel for billedet, at kameraet kommer i øjenhøjde med blomsten.